Outside Magazine subscription - Save up to 75%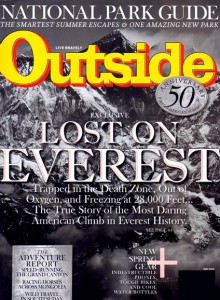 Outside Magazine is an American outdoor-sport publication covering everthing that defines the active lifestyle.
First published in September 1977, this outdoors magazine is devoted to adventure, travel, outdoor gear, fitness, and all outdoor activities.
Outside is often a top choice for outdoor enthusiasts, as it provides coverage for sports like rock climbing, alpine mountaineering, mountain biking, and more. Add in travel tips, environmental coverage and gear reviews for a complete outdoors reading experience.
Issues per year: 12
Publishing frequency: Monthly
First published: 1977
Publisher: Mariah Media

↓ Don't miss out on a chance to save up to 75% on a Outside Magazine subscription. ↓
include('rand-text.php'); ?> Outside Magazine
Looking for another sports magazine? See our Top 5 List or view all current deals.