Climbing Magazine subscription - Save up to 75%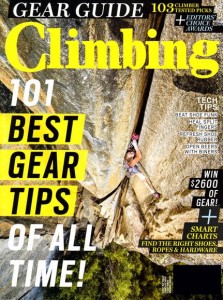 When you're talking mountains and talking vertical, you're talking Climbing Magazine – even if you didn't know it just yet.
Considered the leading climbing magazine since 1970, this monthly publication brings 10 issues of information, advice and more each year.
Climbing Magazine offers up news, features and other exclusives for climbing enthusiasts of all forms – sport, trad, bouldering, walls, ice, alpine and mountains. If you're a climber, look no further.
Issues per year: 10
Publishing frequency: Monthly
First published: 1970
Publisher: Skram Media LLC

↓ Don't miss out on a chance to save up to 75% on a Climbing Magazine subscription. ↓
include('rand-text.php'); ?> Climbing Magazine
Looking for another sports magazine? See our Top 5 List or view all current deals.