Backpacker Magazine subscription - Save up to 78%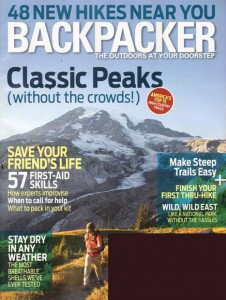 If you hit the trails or long for the mountains more than the average person, Backpacker Magazine is not likely to disappoint.
With nine issues each calendar year, this outdoors magazine is perfect for the outdoor sports enthusiast, offering up everything needed to make the next backcountry experience a success – from backpacking, to camping, to hiking, to climbing, to mountaineering and more.
In each issue of Backpacker Magazine, you'll find outdoor gear reviews, wilderness and survival tips, trip reports, coverage of specific destintations and even strength and conditioning advice.
Issues per year: 9
Publishing frequency: Monthly
First published: 1973
Publisher: Active Interest Media

↓ Don't miss out on a chance to save up to 78% on a Backpacker Magazine subscription. ↓
include('rand-text.php'); ?> Backpacker Magazine
Looking for another sports magazine? See our Top 5 List or view all current deals.